Dated 3rd October 2014 Time 11:00 AM ,
On the auspicious day of Dusshera, Asian Deputy President and AICF CEO Mr Bharat Singh Chauhan along with Gujarat State Chess Association President Mr Ajay Patel inaugrated Sardar Patel Chess College in Ahmedabad.
First ever Chess College in India was named after the Iron Man of India, Sardar Patel Chess College which is affiliated under Swarnim Gujarat Sports University which is recognized by UGC u/s (2f) of the UGC Act 1956.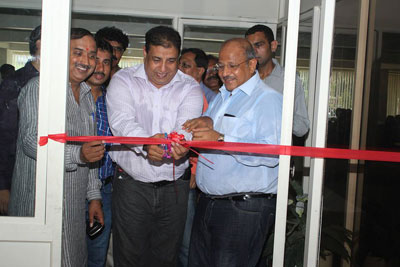 While inaugurating Sardar Patel Chess College, Mr Bharat Singh Chauhan said we can see the development happening in the world of chess and now we have a college which will present specialize degree's in Chess Training which will help us to create recognize coaches at the local level and it help us to build the base of Chess in School Program. He also said its great to see so much development for the game in Prime Minister's back yard in Gujarat.
On this occassion Gujarat State Chess Association President Mr Ajay Patel said this is just the first step towards the development of the Game in Gujarat and India. This was our dream and command by the Prime Minister Shri Narendrabhai Modi, he told us while he was the Chief Minister of Gujarat that Chess has to be developed in the State as it will help us reducing crime rate and develop our kids. Our sole aim is to provide trained coaches so the kids can learn the game systematically and we can produce more Vishy Anand's from India. On today's special day he also took vow of taking Chess to 8000 villages of Gujarat with giving Chess infrastructure to every village. He exclaimed this college is a very important step for the game as it will create employment in the game and if the employment is there more people will take on the game. He also thanked All India Chess Federation CEO for his unconditional support to the State Chess Association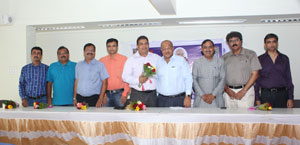 While concluding the Function Chess Education Trust's Managing Trustee and the Secretary of Gujarat State Chess Association Mr Bhaveshbhai Patel said we are very thankful to Swarnim Gujarat Sports University for the affiliation and its an unique step to provide degree's in the field of Sports. We have lot of degrees available in Sports Management but this the first where will provide degree to players and coaches. We will begin with Certifications in Chess training and Diploma in Chess Training. Diploma in Chess Training will be for a duration of 6 months. We will also run Fide Certified Programs along with All India Chess Federation. The Programs will be managed under the observation of GM Tejas Bakre (Fide Trainer) and IM Shekhar Sahu (Fide Senior Trainer). Mr Joy Chouhan has been appointed as the Principal of Chess College.And the faculties of now are NI Ankit Dalal, FI Nirav Rajasuba, FI Arpi Shah, Mr Mayur Patel and IA Indubhai Parmar.
Sardar Patel Chess College was inaugrated at Tirth Chess Club in Ahmedabad and will be run by Chess Education Trust. Soon more details will be updated on
www.chesscollege.in
In Pics 1st: Deputy President Asian Chess Federation Mr Bharat Singh Chouhan and Mr Ajay Patel President Gujarat State Chess Association inaugrated Sardar Patel Chess College with Secretary GSCA Mr Bhavesh Patel Jt Secretary Ankit Dalal and MLA Ellisbridge Mr Rakeshbhai Shah.
2nd Pic: Centre MR Bharat Singh Chouhan along with Mr Ajay Patel, GM Tejas Bakre, Mr MAyur Patel, Mr Samir Shah,Mr Bhavesh Patel, Mr Rakesh Bhai Shah, Dr DG Choudary and Mr Joy Chauhan.
.